Buying Guide: Choose the Right Safety Products for Your Home
Click on the product hotspots below to learn more about the safety products that industry experts recommend for the home.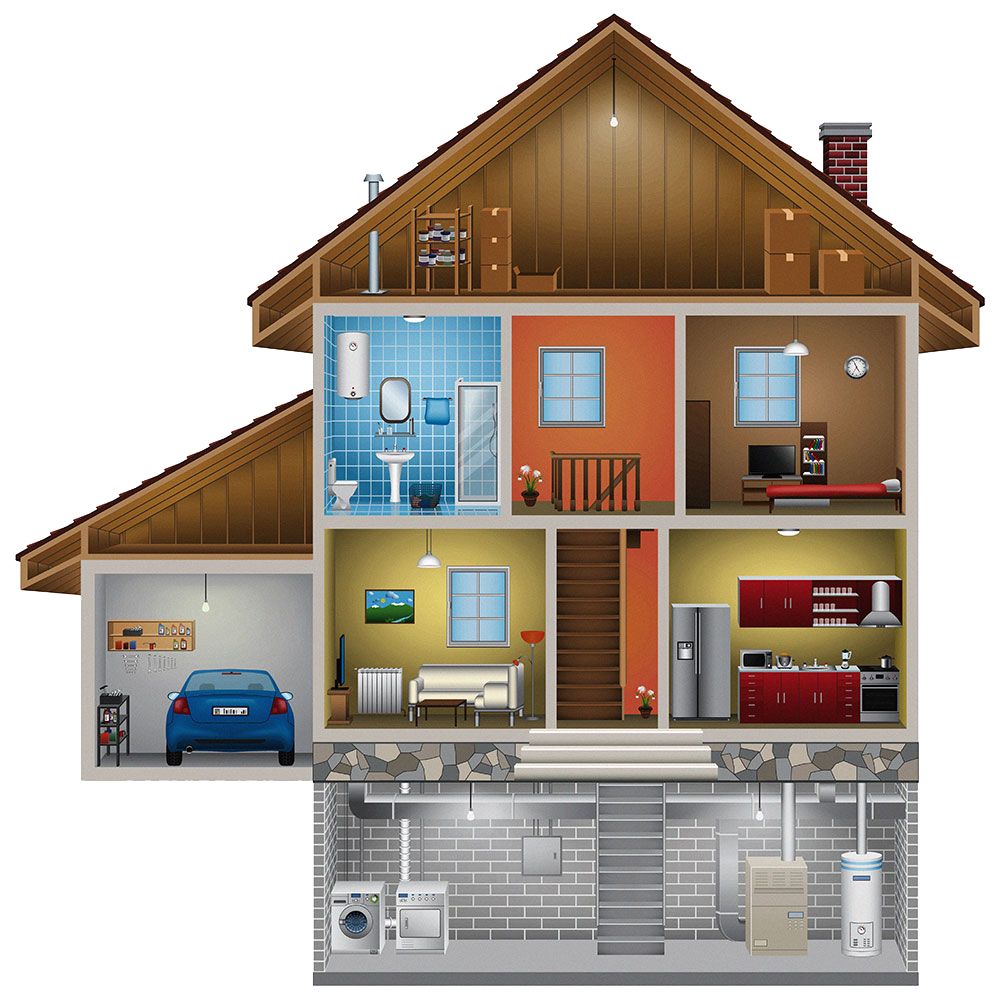 Done Making Your Home Safe? Now Make it a Smart Home.
Now it's simpler than ever to know about a potential emergency at home – regardless of where you are. With the RemoteLync Monitor and the RemoteLync Camera, now it is easier than ever to watch over your home when you're not there.
---
Placement of Smoke Alarms
In a typical home fire, occupants have just minutes to escape. And because smoke in one area may not reach a smoke alarm in another, the National Fire Protection Association (NFPA) recommends placement of at least one smoke alarm on every level of the home (including basements), in every bedroom, and outside each sleeping area. The NFPA also recommends interconnection of alarms to provide better whole-home protection than stand-alone alarms. Leading authorities recommend that both ionization and photoelectric smoke alarms be installed to help insure maximum detection of the various types of fires that can occur within the home. Ionization sensing alarms may detect invisible fire particles (associated with fast flaming fires) sooner than photoelectric alarms. Photoelectric sensing alarms may detect visible fire particles (associated with slow smoldering fires) sooner than ionization alarms.
Kidde smoke alarms are rigorously tested and are approved for use in any room in the house as specified by the user guide. Some alarms have added features which may make them more beneficial for certain areas. For examples, a model with super-bright LEDs can help illuminate a hallway escape path, or a model with voice warning in a bedroom can reduce confusion by informing of the danger with specific voice messages. Near the kitchen, a model with an intelligent algorithm may help reduce nuisance alarms. 
Browse Smoke Alarms
Combination Smoke/CO Alarms
A combination Smoke/CO Alarm makes it easy to provide both types of protection throughout the home. Industry experts recommend a CO alarm be installed on each level of the home - ideally on any level with fuel burning appliances and outside of sleeping areas. Therefore, a combination alarm can satisfy one of your smoke alarm location requirements as well as a carbon monoxide location.
The Kidde Intelligent Alarm combines the detection capabilities of an ionization smoke sensor with that of an electrochemical sensor, which is used to detect CO. Since carbon monoxide is present in all fires, having both detection chambers work together in one alarm is a breakthrough in the fire safety industry. When either sensor notices a potential hazard, it will communicate with the other. Depending on what is detected, the alarm will adjust its smoke sensitivity in order to better discriminate between a real hazard and a false one. This constant communication enhances the alarm's overall performance in all fires, and significantly reduces the potential for a nuisance alarm.
Browse Combination Alarms
Heat Alarms
Heat alarms are not suitable for fire detection by themselves, and must be used as part of a smoke alarm system. In some areas of the house, it may be beneficial to use a heat alarm that senses fire by air temperature, rather than a smoke alarm that senses particles in the air. The installation of heat alarms in attics, furnace rooms or garages is recommended, since these locations occasionally experience conditions that can result in improper operation of smoke alarms. Heat Alarms are designed to alarm when presented with a certain temperature at the alarm. They will not react to smoke and should not be used to replace smoke alarms, but as a supplement to a complete smoke alarm system.
Kidde HD135
Placement of Fire Extinguishers
Kidde has designed some fire extinguishers with features that specifically address these types of dangers. For example, Kidde's kitchen fire extinguisher has a proprietary nozzle design that allows a broad, dispersed discharge of agent that delivers a high volume, low velocity delivery of dry chemical. This is the only fire extinguisher UL-Listed for residential cooking equipment. The National Fire Protection Association (NFPA) provides minimum recommendations for the home:
Step 1: Choose Primary Fire Extinguishers (Must Have)
For your main home protection install a 2-A:10-B-C rated extinguisher on every level of your home - no more than 40 feet apart. This could include locations such as living areas, garages, and workshops.
Step 2: Choose Supplementary Fire Extinguishers (Should Have)
The kitchen is the likeliest place you will have a fire. Protect special locations in your home with a UL rated fire extinguisher.
Browse Fire Extinguishers
As a global leader in fire safety equipment, Kidde offers a wide range of smoke alarm options. To find the right solutions for your home, today.