To Activate Your Alarm:
This model is equipped with a feature that automatically activates the alarm when the alarm is attached to the mounting plate for the first time. Once activated, the battery will supply power to the alarm for the life of the alarm (10 years) under normal conditions. 
Align the alarm with the mounting plate and rotate clockwise (right) approximately 45° until the unit stops and clicks into place. DO NOT over-tighten. If unit needs to be re-aligned, rotate the alarm counter-clockwise, remove and rotate to desired alignment. 
The alarm will mount to the plate in three (3) positions (every 120 degrees). You will know power has been supplied when alarm briefly chirps. Unit will remain on until it's disabled by the user at alarm's end of life. Removing unit from the mount will not deactivate the alarm. Don't over-tighten the alarm as damage to alarm or mounting surface may occur. 
The alarm is now activated! After installation/activation, test your alarm as described in Operation and Testing section. 
Warning: Failure to properly install and activate this alarm will prevent proper operation of this alarm and will prevent its response to fire hazards.
To Deactivate Your Alarm:
Remove the alarm from the mounting plate by rotating it in the direction indicated by the arrows on the cover of the alarm.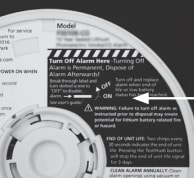 Break through label with a screwdriver.
Turn the screw to the "OFF" location. This will deactivate the alarm, stop the low battery chirp and render the alarm safe for disposal by draining the battery.
NOTE: Turning off the alarm is permanent. Please contact product support at 1-800-880-6788 before deactivating the unit.