Buying Guide: Choose the Right Safety Products for Your Home
Click on the product hotspots below to learn more about the safety products that industry experts recommend for the home.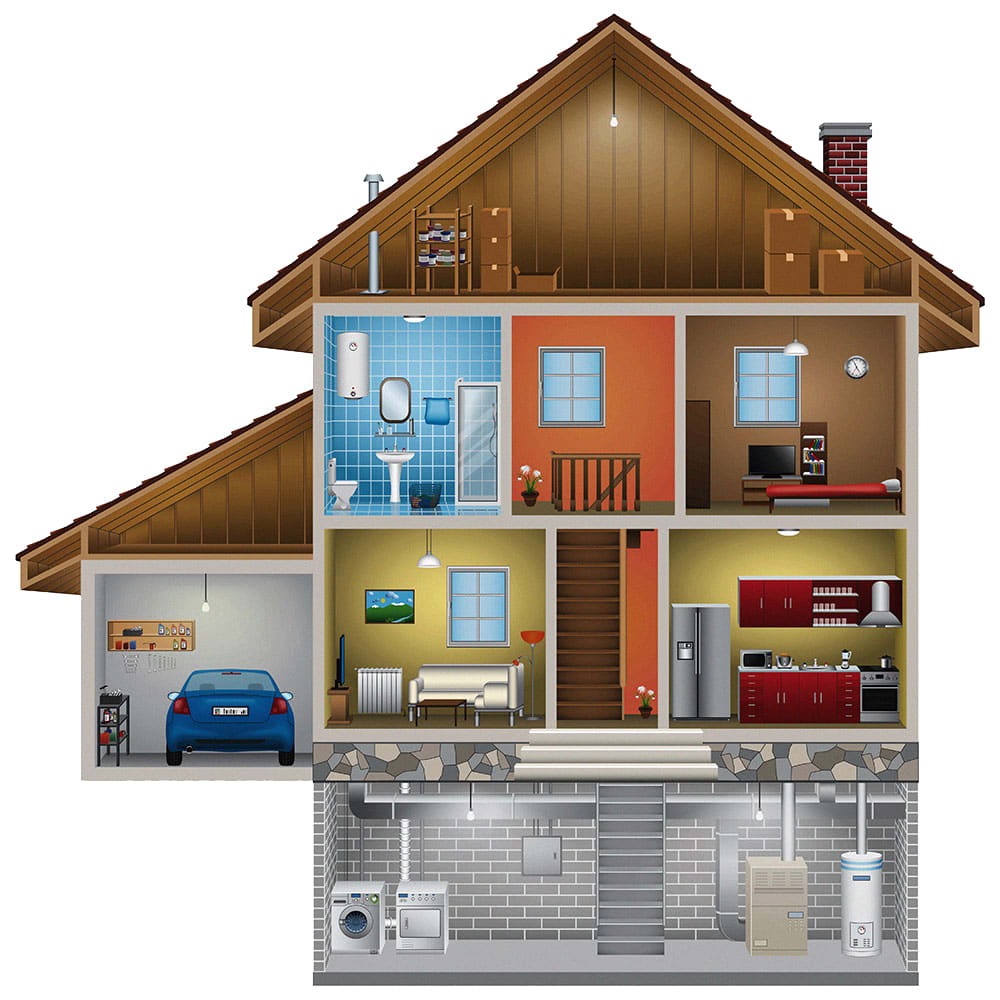 Done Making Your Home Safe? Now Make it a Smart Home.
Now it's simpler than ever to know about a potential emergency at home – regardless of where you are. With the RemoteLync Monitor and the RemoteLync Camera, now it is easier than ever to watch over your home when you're not there.
---
Choosing a Fire Extinguisher for Your Home
At home, place the power to put out small fires in your hands and within your reach.
According to the National Fire Protection Association (NFPA), someone in the United States dies in a house fire every three hours, averaging approximately 3,000 deaths each year. Arm yourself with the right equipment to help prevent a small, self-contained fire from spreading out of control.
Kidde is world-renowned for our expertise in manufacturing reliable, high-quality fire safety products, including fire extinguishers. In fact, with a history spanning nearly 100 years, we've been making them for longer than any other company. Here we'll give you some tips on how to choose them – and how to use them.
Below are minimum recommendations for the home from the National Fire Protection Association.
Step 1:
Choose primary extinguishers for your home. This includes solutions for your living area, garage or workshop, and they're pieces of equipment that you absolutely must have, according to the NFPA.

Living area – For your main home protection, install a 2-A: 10-B:C rated living area unit on every level of your home, no more than 40 feet apart. Class A-B-C.

Garage/Workshop – Due to volumes of flammable liquids in the garage, you should install a higher rated unit such as the 3-A:40B-C Garage/Workshop unit. Class A-B-C.
Step 2:
Choose supplementary extinguishers for your kitchen and areas with a higher likelihood of electrical equipment fires. These are not required, but are highly recommended.

Kitchen – The kitchen is the likeliest place you will have a fire. Protect your home with a 711A extinguisher in the kitchen area.

Electrical – Ideal for tackling fires involving energized electrical equipment with a rating of 1-A: 10-B:C. Class B-C.
A quick note on kitchen fire extinguishers: The majority of house fires start in the kitchen. But with the right fire extinguisher on hand they could end there, too. Kidde now has THE ONLY UL-LISTED KITCHEN FIRE EXTINGUISHER* that is approved for use with residential cooking equipment. Learn more.
Browse Kidde's Residential Fire Extinguishers
How to use fire extinguishers
Stand 5 feet away from the fire and follow the four-step PASS procedure recommended by the National Fire Protection Association:
P - Pull the pin and hold the extinguisher with the nozzle pointing away from you.

A - Aim low at the base of the fire.

S - Squeeze the lever slowly and evenly to discharge the extinguishing agent. (When the agent first hits the fire, the fire may briefly flare up. This should be expected.

S - Sweep the nozzle from side to side, moving carefully toward the fire. Keep the extinguisher aimed at the base of the fire.
When to use fire extinguishers
It's important to remember that fire extinguishers are only one element of a complete fire survival plan. Only use your extinguisher after making sure:
All residents of the home have been evacuated to safety

The fire department has been notified

There is a clear exit behind the person using the extinguisher
Use your extinguisher only to keep a small self-contained fire from growing, only when the room is not filled with smoke, or to create a safe pathway out of the home. Be sure to read the instructions and become familiar with your fire extinguisher's parts and operation before a fire breaks out.